We travel to the different spots on the island to surf the best waves of the day depending on the weather
The main spot (La passe des soeurs) where I do 90% of the lessons is located on the west coast of the island of Oléron, north of Le Grand-Village Plage and a few minutes from the famous spot of Vertbois.
This slightly isolated beach is nevertheless one of the best spots on the island. Uncrowded, it is the ideal choice when you want to surf quietly in summer and when you want to learn this board sport.
Depending on weather conditions, fallback spots are planned in other corners of the island such as l'Écuissière or Plaisance.
The island of Oléron is full of very good surf spots. We are fortunate to have a cut coast which allows us to be able to surf at each tide, at all sizes (many spots do not capture all the swell), and by all winds.
Our little island has retained a very good atmosphere in the water compared to many places in the world.
It is up to all of us to continue to contribute to this !!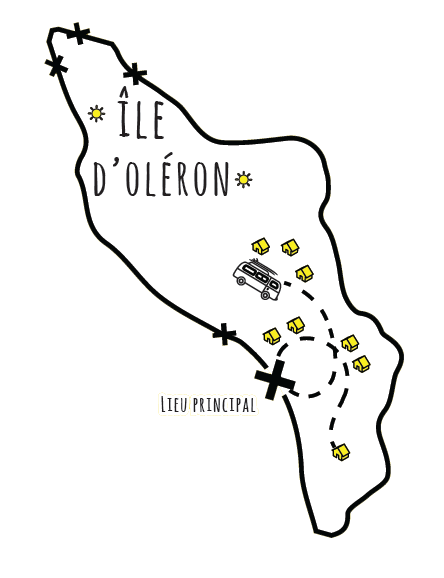 There are different beaches on which we will surf, depending on the tides, weather conditions, the size of the waves and the level of the group concerned. One of my other favorite spot is Plaisance in Foulerot. The waves are sheltered when the swell is very strong, and much more practicable than on the west coast. It is therefore an excellent fallback solution to have the best waves, whatever the weather conditions!
My location "Le Chemin des Mottes" is "forbidden except residents" but the customers of the school have the authorization to go there.
Park at the end of the road, as close as possible to the Route des Allassins (without disturbing the neighbors) and you will see my cabane and my "TORPILLE" van !