Surf shool on Oléron Island
I am Clément Lely, founder of the Island Surf School, a new and unique concept on Oleron island! I propose surf lessons on Oléron's best spots. 90% of the lessons are done at la Passe des Soeurs in Grand Village.
Each course includes board, wetsuit, insurance, possibly transportation (if possible) and the attentive advice of a state-certified instructor!
You just have to get in your wetsuit and enjoy!
The explanations are very focused on pedagogy, you will learn surfing with clear, precise advices to bring your progress to its maximum, while keeping the "fun" side of this discipline which is surfing and which is essential.
State certified instructor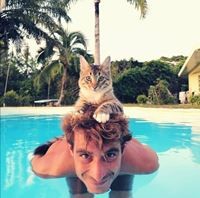 My name is Clément Lely, (and the cat is Andy), I have been surfing for about 20 years and teaching for 9 years. It has been a while since I dream to combine passion and work. I really love surfing, teaching, and ocean in general.
Since I got qualified for teaching surfing – Brevet d'initiateur federal and BPJEPS (France gives the most advanced surfing qualification in the world), it is with pleasure that I share what I love the most: surfing!
I have been traveling and teaching surfing around the world: France, Indonesia, Australia, Nicaragua, and Tahiti…
I have been inspired by a lot of instructors from the different sides of the world. Those places were very special, those people don't teach the same way and it was very inspiring for me, and helped me building my own skills mixing all the different techniques I learned on the road!
Among other things, I worked at the Rise-up Surf Nicaragua surf camp in Central America. It is one of the best in the world: everything is focused on progression in surfing
Surfing theories (from beginners to experienced surfers) in overhead projectors, paddling techniques in the pool… It is with them that I learned to do video coaching. The clients were filmed at each session and we made a video feedback with them to see what could be improved.
I worked there for two winters and spent a few months as a head instructor, responsible for organizing the entire surf part of the camp. It was surely the best experience I had in this business.
I spend also some winters in French Polynesia to teach on the black sand of Tahiti. There are some of the best waves in the world and the people there are really nice. Don't hesitate to come and surf with Taie Fa'ahe'e surf school !!
After those travels, the place I love the most is for sure my own place: Oléron island! The waves are amongst the best I've seen to learn. The forest, beaches, and landscapes are so beautiful, and there are those special island vibes. It is with a lot of joy that I've created my own surf school, and with pleasure that I'll bring you to my surfing world!
Clement Lely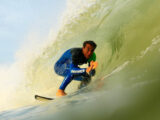 From Oléron Island
Moniteur BPJEPS / Secouriste PSE1 recyclé
Very good friend of François
Teaches year-round surfing since 2014
Fluent in french and english
Passionnate about surfing lessons on our paradise island
Photographer/Videographer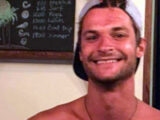 From Thézac
Moniteur BPJEPS / Secouriste PSE1 recyclé
Joining the team in July/August  
Very good friend of Clément
   Fluent in french, english and spanish
   Pruner climber monitor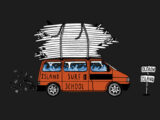 From Germany
T4 WV

 Likes drifting
   Students and boards transporter
The most stylish van ever