Welcome
to Island Surf School !
Our traveling surf school offers you a unique experience when it comes to learning to surf.
We move around the island to offer you the best surfing conditions depending on the weather conditions. Our experienced instructors will teach you the basic techniques of surfing as well as the tactics to progress quickly.
All equipment including surfboards and wetsuits are provided.
Join us for an unforgettable surfing experience on the island of Oléron!
gregory salinger
2023-04-08
Great surf school!
Aude Derouetteau
2023-03-23
J'ai fait mon tout premier cours de surf avec Clément qui est très pédagogue et qui prend le temps de bien tout nous expliquer. Nous avons passé un super moment !! Merci à island surf school !!
Cours super pédagogique avec une magnifique ambiance. Et Clément sait bien mettre en confiance.
concept intéressant pour surfer des spots différents. Clement au top et de très bon conseils qui nous ont vraiment permis d'améliorer notre technique. je recommande
Alessandra Tinio
2023-03-01
I had a great experience surfing with the Island Surf School team. I've just moved to France from Hong Kong and the Philippines and was looking for a place to start exploring the surf here. The team made it really easy to book a lesson based on the best conditions for the weekend. They also tailored the lesson for me and my husband to get the most out of it as intermediate surfers looking to improve on things like wave selection and technique. They also helped me survive my first cold water surf while making sure I got stoked too. I highly recommend them and my husband and I loved Ile d'Oléron and we can't wait to go back and surf with them again soon!
Une super expérience sur l'île, petit coin de paradis et les profs sont fun, très pédagogues et à l'écoute ! Je recommande
Merci Clement pour le cours de surf cetait trop cool !!!! Je vais revenir le plus vite possible A bientot merci pour tout ♥️
Super cours de surf a l'île d'Oléron ! Super materiel et prix intéressant merci mon Clément, a très bientôt au Maroc 🪂☀️😍
Quelle pépite !!!! J'ai fréquenté cette école il y a environ deux semaines pendant mes vacances et je dois dire que c'était formidable pour apprendre et s'amuser. Je suis débutante et c'était mon premier cours de surf de ma vie. Clément l'instructeur est super passionné – lorsque vous attrapez une vague, il sera le premier à vous encourager, et lorsque vous tombez de la planche, il sera toujours là pour vous emmener sur le côté et vous expliquer comment vous pouvez vous améliorer. Personnellement, je crois que ce qui différencie une école de surf d'une autre c'est le prof . Clément est aller au-delà pour s'assurer que chaque élève soit à l'aise, accueilli, s'amuse et attrape une vague ( bien sûr!). On était un petit groupe ce qui nous a permis de s'entraider également. Les prix sont très corrects et le matériel fourni est en parfait état. (Planche / Combis / Chaussons ) Le surf est une très chouette activité à faire sur l'île doleron – Superbe expérience, fortement recommandé !!! ———— This surf school is a hidden gem !! I attended this school about two weeks ago during my vacation and must say it was great to learn and have fun. I am a beginner and this was my first surf lesson ever Clement the instructor is super passionate – when you catch a wave he will be the first to cheer you on, and when you fall off the board he will always be there to take you to the side and explain how you can improve. Personally, I believe that what differentiates one surf school from another is the teacher. Clement went above and beyond to make sure every student was comfortable, welcomed, had fun, and caught a wave (of course!). We were a small group which allowed us to help each other as well. The prices are very correct and the equipment provided is in perfect condition. (Board / Suits / Slippers) Very good experience. Highly recommended!!!
Ravie d'avoir débuté l'expérience surf avec Clément, j'avoue avoir hésité à me lancer à plus de 40 ans 😅 mais aucun regret. Clément s'adapte au niveau de chacun, donne de bons conseils et le tout dans la bonne humeur !! J'y retourne dès que possible 🏄
The beautiful season is pointing the tip of its nose!
The water has warmed up! You can now surf in 3mm summer wetsuits. It's time to indulge your body and mind.
The school is open and offers courses all year round.
Feel free to call us !
You can rent boards and wetsuits everyday…
2  Options : Come rent a board at the best tide while I am giving surf class to other student, or come at my house get your gear. 
Contact us !
What's Island Surf School?
Groups of 8 people MAX
We jump in the van to find the best conditions
Boards and wetsuits in excellent condition
Suitable for all levels (beginners to competitors)
Lessons from 6 years old in complete safety
No need to know how to swim (adapted lessons)
Groups are developed by levels
1h30 MINIMUM in water + explanations on the sand
Eco-responsible school, respectful of the environment
Wetsuits and boards rental

Lessons during the day, sunset and even during night!!
Instructor in the water with the students
Coaching using video analysis for advance surfers
We use professional equipment (GoPro, Waterproof case, Telephoto, Camera, etc.) to offer you good quality photos and videos of your surf lessons.
You may then have the chance to have memories of your time at Island Surf School.
Find your pics on Google Drive !
All these photos are free for students. We only ask you in return to tag our social networks.
Instagram : @island_surfschool
Facebook : @islandsurfschool
From 8h00 to 19h00
or send a message to
+33 7 49 10 78 24
clementoleron@gmail.com
www.ecoledesurfoleron.com
Chemin des Mottes – 17 370 Grand Village
We meet smiling at the Chemin des Mottes, in front of our hut and our orange Van.
Discover the night sessions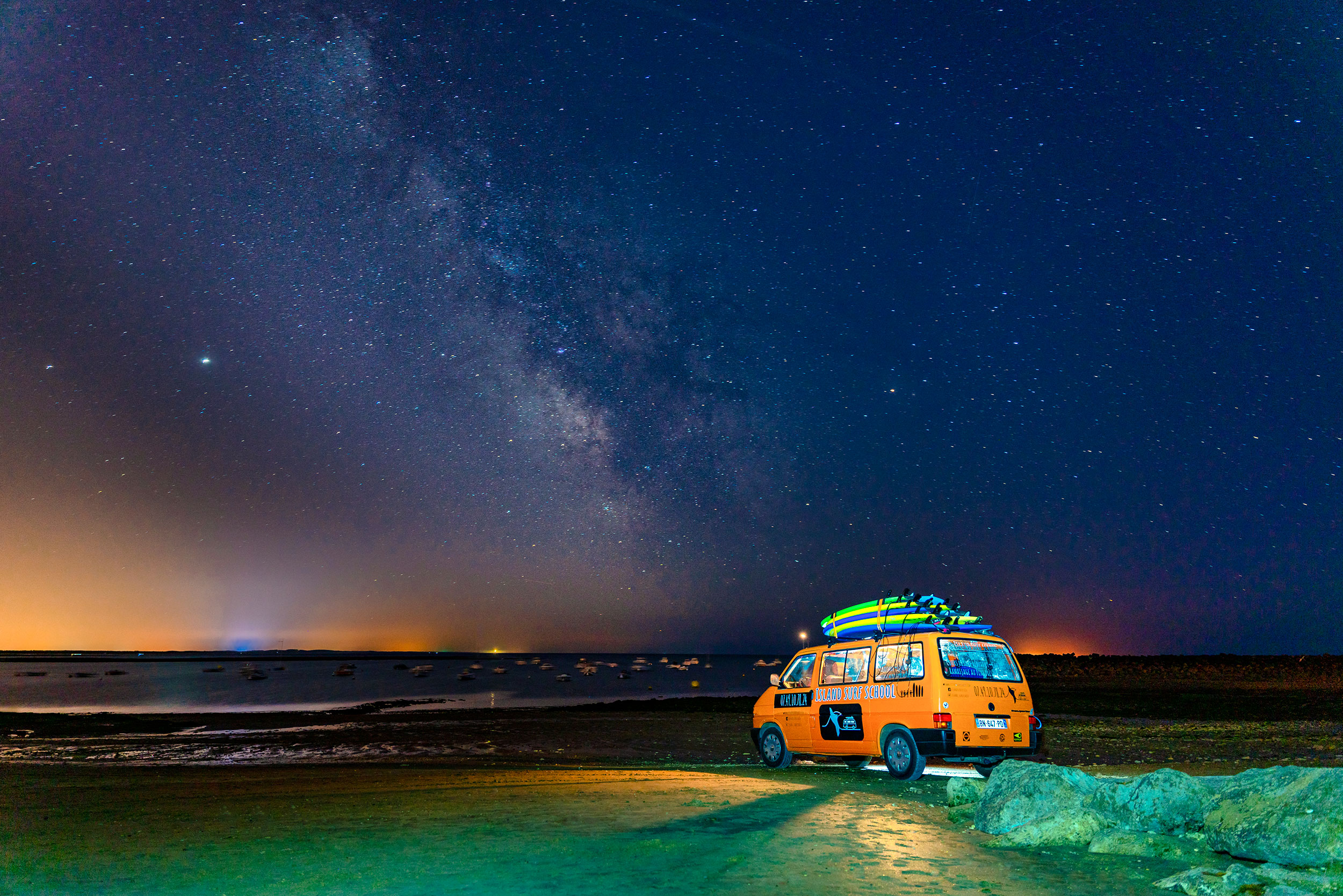 During full moon periods, I take you surfing under the Milky Way and feeling the ocean in a different way!
Dans cette section,
vous pourrez trouver très bientôt
de nombreux articles
sur différentes techniques de surf, l'analyse des conditions météo, le choix des boards et du matériel…
,-)